Flippr Tools is the tools component of Flippr, designed to enhance the functionality of NFT marketplaces and deliver powerful analytical data to its users.
We've combined the functionality of several of the popular tools in the NFT space to provide our Access Pass holders with what we see as an "all in one" utility, covering collection analytics, listing sniping, rarity information and more.
Tired of missing out on hyped NFT drops? Flippr Minter takes the stress out of mint day by scheduling transactions ahead of time to be executed at the moment a mint goes live. Flippr Minter sets up a burner account separate from your Metamask that you fund only with the Ethereum required to complete a mint and nothing else. This account can be imported into other wallet programs (like Metamask) to transfer your tokens after the mint has concluded.
Additionally, Flippr Minter automatically uses Flippr Node through native integration with the rest of the Flippr ecosystem. For more information about the benefits of Flippr Node, check out
Flippr Node
.
The landing page for Flippr Minter
Mass Bidding is a feature integrated natively into Flippr Minter that allows you to programmatically bid on an entire OpenSea collection unattended. The power of mass bidding is derived from two main points - the first being that desperate sellers accept offers below the floor price of the collection and the second is that bidding on OpenSea is entirely gas free for the bidder.
Go from spotting a suitable collection to bidding on the entire collection in minutes with Mass Bidding. Set your bid price and your bid expiration and Flippr will take care of the rest.
See real time price movements in collection sales and floor pricing, with historical graphs and charts just a click away. Flippr Analytics delivers investors the data they need to see the direction a project's value is heading, with deep integration into the rest of the Flippr extension. Designed to be a competitor to tool suites like Icy.Tools, Flippr Analytics offers Access Pass holders data usually locked behind a monthly paywall, for free.
Through the Flippr Chrome Extension direct OpenSea integration allows you to quickly compare the rarity of items to ensure their price reflects their worth. A collection's traits are ranked and weighted to deliver a true numerical rarity. Deeper rarity insights (including rankings) are also available on the Flippr Analytics page of each collection. Our universal ranking algorithm reflects an unbiased numerical rarity that may differ from other ranking sites that have had their rarity information supplied by project creators. This approach allows us to rank revealed collections instantenously when indexed.
Spotted a snipe opportunity? Bypass OpenSea's annoying checkout flow and purchase assets with two clicks. You can use any wallet connected to your MetaMask too - it doesn't have to be the one linked to your Access Pass.
Flippr gives you the ability to queue multiple purchases at once through the Batch Buy feature. Simply check the box of each asset you'd like to acquire and click the "Batch Buy" button that appears across the bottom of the screen when you're ready to pay. What's more, it even works across multiple collections. Batch Buy simplifies floor sweeps and drastically reduces the tedious effort required.
An innovative new idea designed to keep the NFT community safe. By allowing Flippr users to report suspicious projects we'll build an extensive database of rugs and scam projects. Flippr alerts users to dodgy projects before the browser has a chance to load the webpage, prompting users to either close the tab, or override the warning and continue.
Flippr Guard protecting a user from a scam project
Never miss a crucial moment again. Flippr allows users to setup custom notifications for their favourite OpenSea collections. Users can choose to monitor the floor price (notified when it rises above or below a certain threshold), volume (spikes or threshold reached) and new listings (below floor price or possessing a specific trait). Users will be notified within seconds of the event occurring, allowing them to snipe opportunities in real time.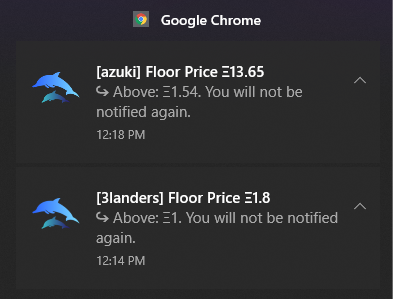 Desktop notifications with alert information that you previously set
Flippr will give you access to deeper analytical data than is publicly available on an OpenSea collection page. From daily, weekly and monthly volume/sales/floor stats, to conveniently located royalty percentages and contract addresses. Flippr is designed to give you more insight into how a project is performing, to allow you to make a more informed decision as to whether you want to buy in.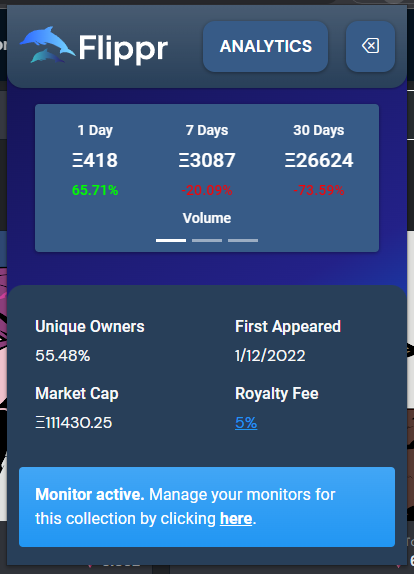 Enhanced OpenSea analytics provide convenient access data
Track the value of your holdings in one convenient location. We'll show you how the value of your portfolio has changed over time and how each collection is doing individually without having to navigate to the relevant OpenSea page. In the future, we'll also be adding the ability to track other people's wallets and be notified when they make an acquisition or disposal.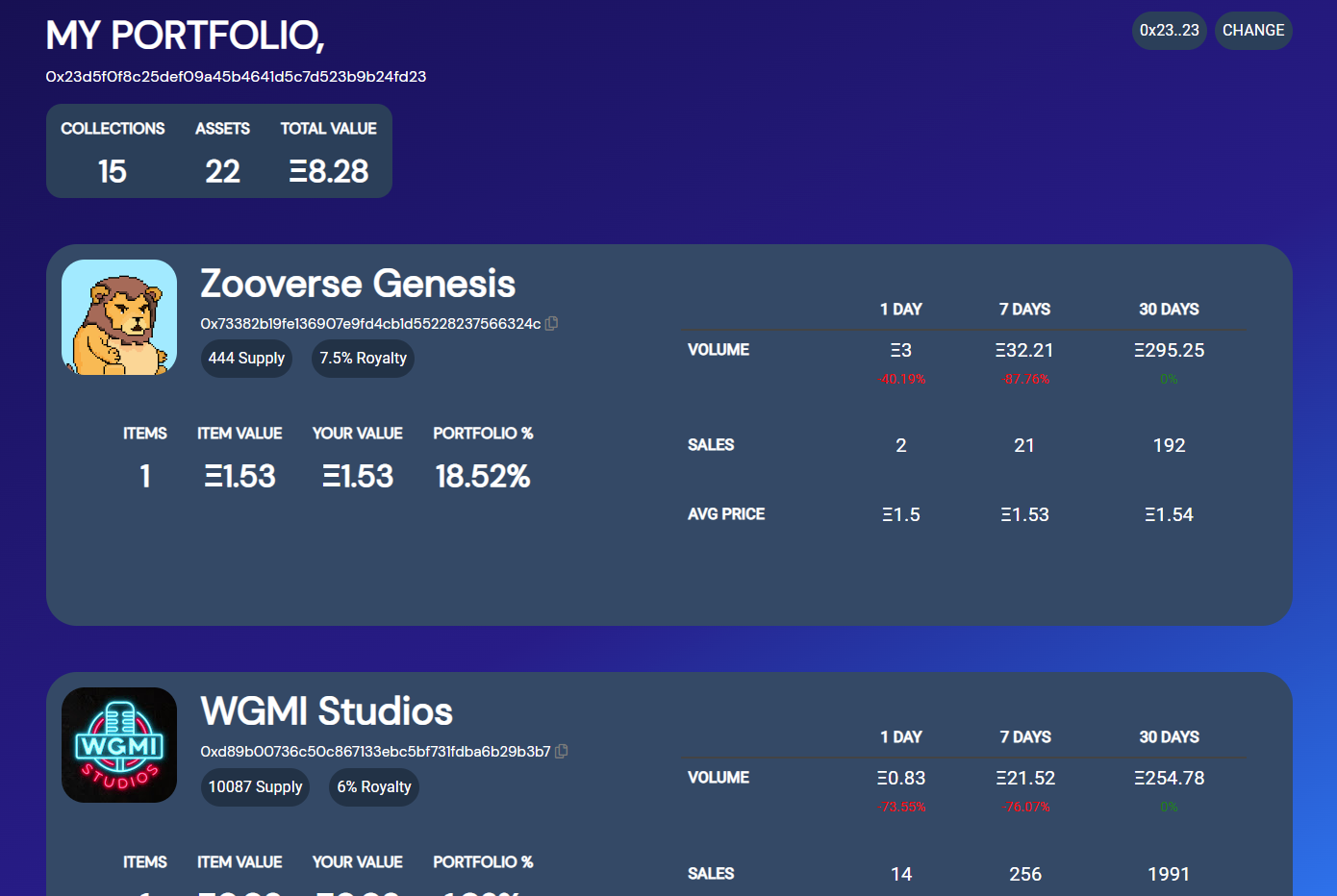 Early beta version of the portfolio tracker dashboard
Don't be bogged down by unreliable dApps and mint day mishaps. Our direct contract interaction tool gives advanced users the option of running contract methods directly. Simply supply the contract address and we'll show you a list of functions that you can choose from. One more click and the parameters are validated, encoded and handed over to MetaMask.
Flippr's Contract Interaction Tool allows users to circumvent the use of unreliable dApps and mint straight from a project's contract. By relying on Metamask integration, you'll know if you transaction will be successful without spending a cent on gas.